We are very happy and excited to announce our new beautiful therapy room - a wonderful oasis of wellbeing and healing and the perfect complement to your daily yoga practice! Currently we have three wonderful, experienced therapists offering their healing touch and wisdom with you: Zoltan (Thai Massage, Osteothai, Biodynamic Craniosacral Therapy), Quetzal (Classical Oil Massage), Valerie (Thai Massage, Osteothai, Craniosacral Therapy), Eliane (Shiatsu), Muriel (Lomi Lomi Massage). Find out more below…
Thai massage is based on the concept of Energy Lines, the Sen. Working the lines by acupressure and stretching can treat the whole body by opening energetic, physical or emotional blockages. Thai massage is carried out on the floor, without using oil. The patient wears light, comfortable clothing.
Thai massage promotes general health and well-being. It has a double purpose: on the preventive side, it actives the free flow of energy and improves fluid circulation, digestion, breathing capacity, body posture, flexibility, as well as releasing nervous tension. On the therapeutic side, it can cure a large number of pathologies such as lower back pain, headaches, digestive problems, stress, insomnia, nervous imbalance, neck and shoulder muscular tightness.
Offered by Zoltan Gyorgyovics (Email Zoltan) , Valerie Imbach (Email Valerie)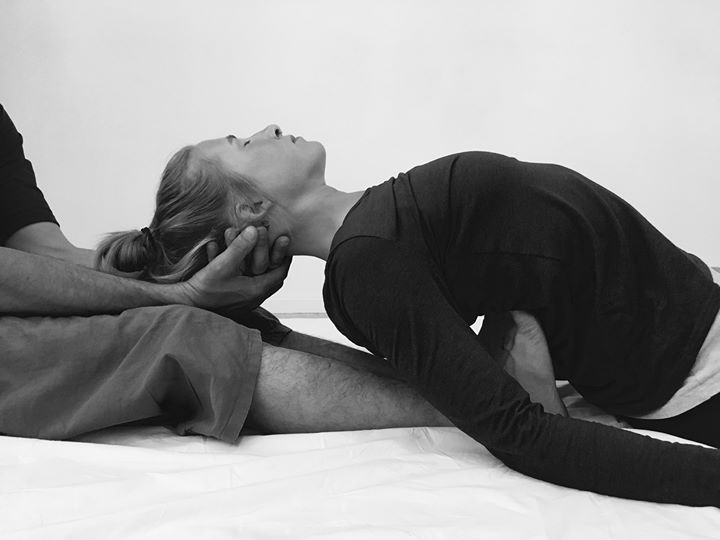 Osteothai is the integration of osteopathic principles and techniques from Thai massage, a bridge between East and West. It's a form of bodywork that combines extraordinary creative and powerful Thai massage techniques with the precise and gentle touch of osteopathy. Osteothai combines traditional Thai Massage's varied and powerful stretches, using long leverage techniques across muscle groups, its acupressure work on energy lines and the creativity of dynamic movements with Osteopathy's release of tissue tension and work on restriction of mobility.
Osteothai is practiced on the floor; the patient wears light comfortable clothing. The masseur uses not only his hands but also his feet, knees and elbows. This makes for a rich and colorful approach.
Offered by Zoltan Gyorgyovics (Email Zoltan) , Valerie Imbach (Email Valerie)
Craniosacral Biodynamics
Integrated CranioSacral Biodynamics is a profound healing process which can influence deeply held patterns of disease - both physical and psychological – which accumulate throughout life as a result of injury or illness and may be subsequently held in the tissues of the body, leading to ill-health and dysfunction. Applying a biodynamic approach has the potential to transform patterns of restriction and resistance at a very fundamental level, thereby stimulating an environment in which health may be restored.
Offered by Zoltan Gyorgyovics (Email Zoltan) , Valerie Imbach (Email Valerie)
Lomi Lomi Massage
Lomi Lomi is a Hawaiian holistic full body treatment for deep relaxation and regeneration. The massage works on a physical, mental and energetic level and helps to reduce stress, to get into the body and to let go. Lomi Lomi is performed with forearms and hands in flowing wavy movements and with a lot of pure natural oil. It releases tension on all levels, provides the feeling of security and helps to accept oneself.
Muriel uses elements of the Lomi Lomi massage and integrates other massage techniques, as well as intuitive moves, stretchings and energy work, sometimes even singing. Lomi Lomi can be a very sensual, touching experience, triggering emotions or simply giving you relief and letting you sink into another world.
Offered by Muriel Kuntz (Email Muriel)
Shiatsu
Shiatsu originates from Japan and is a practice anchored in Eastern philosophy and influenced by therapeutic health science. With roots in traditional Chinese medicine (TCM), Shiatsu has been expanded and enhanced by Western physiotherapy and osteopathic and craniosacral techniques.
Shiatsu helps with chronic and acute physical complaints as well as stress. This form of therapy balances the meridians (energy channels) and the energy flow (Qi) in the body and stimulates self-healing power. Using light pressure, stretches and rotations, Shiatsu releases tension and brings profound regeneration.
Offered by Eliane Wehrli (Email Eliane)
Currently we have five wonderful, experienced therapists offering their healing touch and wisdom with you: Zoltan (Thai Massage, Osteothai, Biodynamic Craniosacral Therapy), Quetzal (Classical Oil Massage), Valerie (Thai Massage, Osteothai, Craniosacral Therapy), Eliane (Shiatsu), Muriel (Lomi Lomi Massage)
Zoltan Gyorgyovics
THAI MASSAGE, OSTEOTHAI, & CRANIOSACRAL BIODYNAMICS
"Zoltan has the capacity to deeply listen to the needs of your body individually and according to that, he adjusts his treatments in a way that your body receives exactly what it needs. He is gifted with extremely sensitive hands and the ability to move and transform in much deeper and more subtle levels then 'only' the physical body."
After a transformative two years in India, Zoltan returned to his home in Budapest and started his study as a Medical Massage therapist. During his studies, he met his first Thai Massage teacher, who planted "a good spirit" within his heart and trained him in the basic principles: not only Thai Massage, but also Concentration Meditation and Vipassana.
In 2006, Zoltan started to study with other teachers and became an assistant. In this way, he was refining his techniques and learning the way of teaching and sharing during many many years. In 2008 came his first trip to Thailand, where he continued to assist and study more with different teachers and schools. During this period, he started to give treatments and attended many Vipassana retreats.
Since 2014 he is a fully authorised teacher of the Sunshine Network and teaching Thai Massage workshops and courses all around the globe.
Zoltan appreciates a lot to have had the chance to study with the two founders of Osteothai (where Thai Massage meets Osteopathy) which left a big imprint in his way of treating and inspired him to finally start studying Osteopathy in Switzerland (SICO - swiss international school of osteopathy) where he lives, treats and teaches nowadays.
Zoltan offers 2 Hour Treatments which combine Traditional Thai Massage, OsteoThai and Craniosacral Biodynamics. His treatments take place on a soft futon on the floor. Please dress in comfortable, loose clothes - preferably non-synthetic and with long sleeves. It is recommended to keep your stomach light.
Costs: 150 CHF (it is possible to get a receipt for your health insurance).
Contact: 077 970 95 88 or zoltan.gyorgyovics@gmail.com
Valerie Imbach
THAI MASSAGE, OSTEOTHAI, & CRANIOSACRAL BIODYNAMICS
Born in Zug, Switzerland 1984.Since Valerie can remember, body movement and dance have always been a significant part in her life. A strong longing to go deeper into more subtle and holistic bodywork came up while she was studying movement education in Basel (GDS/IfB, Bewegungspädagogik, 2005-2008). That's when she came across Yoga for the very first time.
Soon after, Valerie found herself in India, seeking for deeper understanding, truth, love and "home". Since then her Yoga-mat has always been with her and the urge to learn, practice and develop led her to many different places and wonderful teachers around the globe: Stephen Thomas (Hatha Yoga, Pranayama), Biff Mithoefer (Yin Yoga, 50h TT), O.P. Tiwari (Pranayama), Surrinder Singh (Hatha Yoga), Ajay Kumar (Asthanga Yoga), Doug Keller (Yoga Therapy, Philosophy), Gurmukh (Kundalini Yoga), Sienna Sherman (Anusara Yoga), Sharat Arora (Iyengar Yoga), Radhanath Swami-ji (Bhakti Yoga), Goenka-ji (Vipassana & Metta Meditation), Thich Nhat Hanh (Mindfulness, Buddhism).
Side by side with her yoga path Valerie discovered Thai Yoga Massage and its immense benefits and healing power. She's been studying this beautiful art of touch in Thailand and Europe with different teachers since 2010. In 2015 Valerie started to study Osteopathy in Switzerland (SICO - swiss international college of osteopathy) to deeper understand the holistic inter-web of our bodies and is graduating for her Cranio Sacral Diploma in Summer 2018.
Her treatments combine Thai Massage with techniques both from Osteopathy and Craniosacral Therapy.
Costs: 130.- for 1 session of 90 minutes
Contact:078 879 48 07 or valerieimbach@yahoo.de
Muriel Kunz
LOMI LOMI MASSAGE
Muriel Kunz is an artist, musician and massage therapist. She's leading and organising sing-, dance- and film-events, as well as workshops in the field of personality development and tantra. Her aim is to connect people with their body, their heart, each others hearts and with the heart of mother earth and to help them radiating their light over the world.
Contact: 079 888 13 53 or info@lomilomibasel.ch
Eliane Wehrli
SHIATSU
Bodywork has been part of Eliane's life since she was a child – her mother was a body therapist, and she opened Eliane's eyes to the world of touch from a young age. It was through yoga that she discovered her passion for a professional approach to bodywork.
She is currently completing the last part of her Shiatsu training at the International Shiatsu School (ISS) in Kiental, Switzerland.
Alongside her Shiatsu training, she works as a graphic designer and teaches yoga.
For more information on timing and costs visit : www.shiatsu-elianewehrli.ch
Contact: 076 448 60 13 or hallo@shiatsu-elianewehrli.ch