B.Yoga Basel - Yoga in Basel since 2006
B. Yoga Basel offers multiple daily yoga classes & workshops of various methods and yoga styles. Our classes, be it Kundalini, Vinyasa, Ashtanga, Hatha, Jivamukti or other variations are available to all levels of practice through Open Classes (all levels) and special Beginner Courses. B.Yoga is located on Marktplatz, in the very center of Basel and only a 5-minute tram ride from any point in the city. We also lead meditation sessions. All our classes are open to drop-ins.
Yoga classes at B.Yoga can vary from vigorous and intense to soothing and restorative. Most classes are based on fluid movement paired with conscious, intentional breath (Vinyasa) linking body, mind and soul. Teachers bring inspiring inputs to class from diverse sources like Yoga Philosophy, Native American Traditions, Art Theory & Practice, Buddhism, Tao, Science, Engineering, Design and more.
B.Yoga hosts workshops with local and International Yoga teachers as well as a Yoga Teacher Training, Yoga Retreat, & in-Depth Studies Course.
30 to 40 classes per-week open to drop-ins.
"THE HIP AND COLOURFUL STUDIO WITH ITS URBAN/METROPOLITAN FLAIR WAS FOUNDED IN 2006 BY DANIELA FUENTES, WHO IS ORIGINALLY FROM MEXICO CITY. B.YOGA HAS FOUND ITS PLACE IN THE HEART OF THE CITY IN THE MEANTIME. THE STUDIO IS CONVINCING WITH ITS WIDE SELECTION OF VARIOUS COURSES AND ITS CHEERFUL-SWEATY PRACTICE. DYNAMIC STYLES PF YOGA SUCH AS DHARMA, DYNAMIC AND JIVAMUKTI YOGA ARE OFFERED, SOMETIMES ACCOMPANIED BY MUSIC, CHANTS AND SPIRITUAL TEACHINGS. YOGA DOES NOT ONLY MEAN "STRETCHING" ON THE MAT, BUT AN ACTIVE PARTICIPATION IN DAILY LIFE AND SOCIETY. THE TEAM IS INTERNATIONAL, TEACHING HAPPENS IN VARIOUS LANGUAGES. WORKSHOPS, RETREATS AND GUEST TEACHERS - B.YOGA OFFERS A MULTIFACETED PROGRAM, IN WHICH THERE IS SOMETHING FOR EACH AND EVERY ONE."
-YOGA AKTUELL MAGAZINE. 2014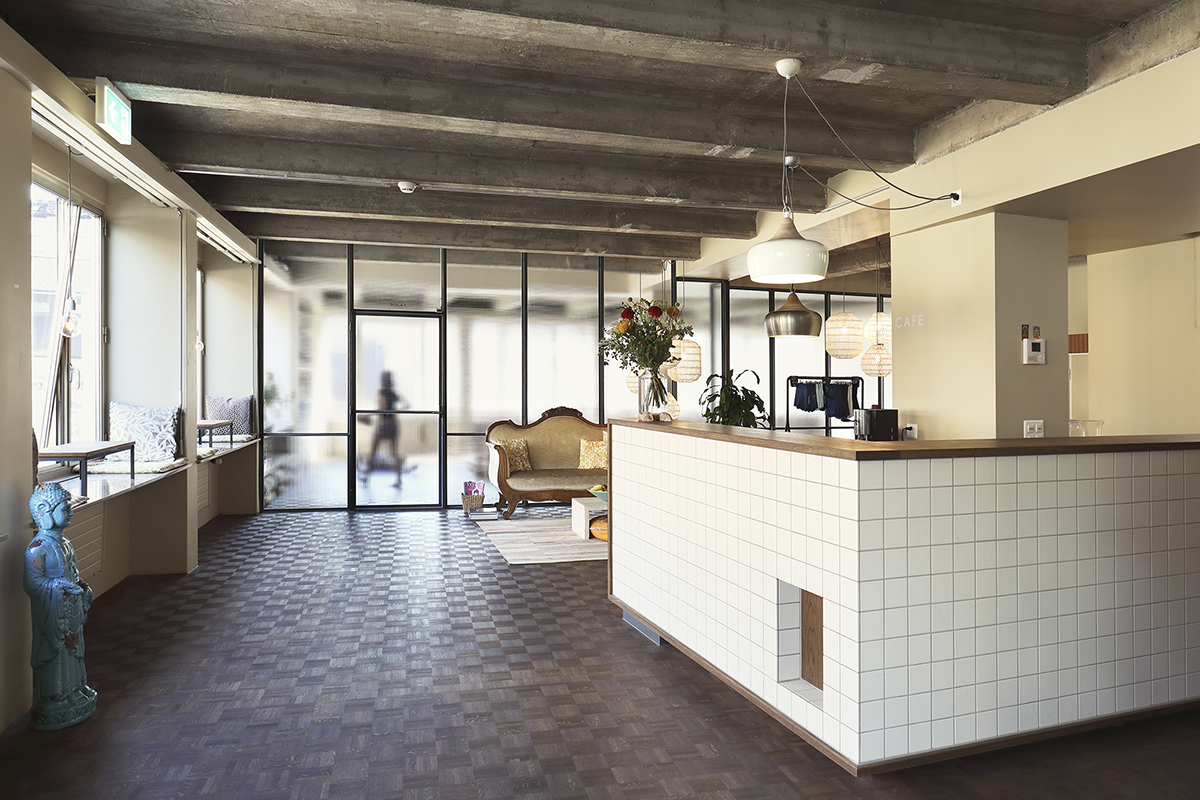 Our yoga studio includes two yoga shalas (yoga rooms), changing rooms , toilettes & showers, a reception & lounge area, a top floor terrasse in which summer classes are offered & a yoga boutique.
OUR Yoga STUDIO IS EQUIPPED WITH OEKO-TEX CERTIFIED, ZERO-WASTE YOGA MATS; natural CORK AND FOAM yoga BLOCKS, RECYCLED WOOL BLANKETS, yoga BELTS & lavender EYE PILLOWS; SURROUND SOUND SYSTEMs & DESIGN-HANDMADE BOLSTERS BY MEXICAN DESIGNER NOYOLO-ALEJANDRA LOPEZ.
B.Yoga's studio is located in the former DEISS Shoe shop old house standing in one of the corners of the Basel Marktplatz, floating on the 4th. floor and facing the beautiful City Hall known as the Red House. B.Yoga had its hub in an upper floor, but after 4 years we came to a space limit. the possibility of renewing the floor below us was already a dream in Daniela's mind. The 4th. floor used to house the DEISS Shoe Shop Stock Warehouse and had the advantage of being completely open and no walls, this characteristic could allow her to design a space specially designed and tailored for the yoga practice.
Daniela -B.Yoga's creative director- envisioned and conceptualised the new studio project. The project was realised together with the support and magic of the interior designers Jens Müller & Stephanie Rossi, who materialised and detailed Daniela's vision, as well as Burkhardt Immobilien, the real state company in charge of the DEISS House. Our new studio celebrates B.Yoga's 10th anniversary, it includes a brand new front desk/reception island & self service café, a spacious open lounge area to sit, chill, connect or enjoy the view through the windows to the Marktplatz. Two yoga rooms equipped with a mobile wall which allows them to be combined into one big yoga room, a therapy room, changing rooms with lockers for women & men, toilettes, showers & a yoga boutique.
The house has a top floor terrace in which we offer outdoor classes as part of our yearly Summer Program.
YOGA 1
Yoga 1 room is framed by beautiful old windows across the Gerbergasse displaying a magical view of the Basel Marktplatz and downtown buildings and a translucent glass wall to the Lounge/boutique/reception area. It can comfortably host 30 practitioners and it provides the perfect atmosphere for our busiest classes & special workshops.
YOGA 2
Yoga 2 room provides an intimate atmosphere due to its smaller size. it's shape is longer, with one window and the very end. The dark wooden floor basks into the sunrise light each morning and it fills the space with a special calm & introspective warmth. This room is ideal for cozier classes like the Prenatal & Postnatal programs, as well as smaller groups like which require special attention like the Beginners Program & the Teacher Training. It can host between 16 to 20 practitioners.
RECEPTION AREA
Our reception & lounge area provides a space to settle down, wait for class and socialise. It hosts a collection of books and magazines which you can enjoy while you are in the studio. The reception is illuminated on a weekly basis by the carefully hand-crafted flower bouquets of Fleurs de Bàle and offers fresh fruits. Tea, coffee & other drinks are available at our self service Café.
YOGA BOUTIQUE
Our yoga boutique offers a variety of Manduka yoga mats, yoga towels, mat carriers and other yoga props as well as yoga leggings. Our actual leggings collection comes from two producers:
A hand and homemade fashion project made up by swiss artists/designers Melanie Fadera and Lara Schwander. All products are made with fabrics made in Europe & hand produced in their atelier in Kleinhüningen.
Mariana Otero is a venezuelan resident in Basel. She helps her family in Venezuela by distributing Carioca leggings which we happily retail in our boutique. Carioca leggings are made with high quality, colourfully printed brazilian lycra.